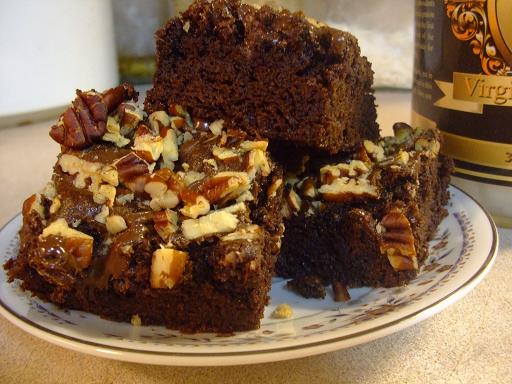 Coconut Cocoa Pecan Chocolate Chip Brownies
Photo by recipe author
Servings: 24 brownies
Preparation Time: 10 minutes
Heat oven to 350 degrees F. Grease the bottom and sides of a 9×13 inch baking pan.
Mix sugars, coconut oil, vanilla and eggs in medium bowl. Mix flour, cocoa, baking powder and salt in separate bowl. Add the flour mixture in gradually, mixing until smooth after each addition. Spread batter in pan, and sprinkle with chopped pecans and chocolate chips.
Bake 30-35 minutes or until toothpick or cake-tester inserted in center comes out clean. Serve with cold milk after they've cooled.
Variations –
Melt caramel, adding about 1 tablespoon of milk to thin it and drizzle it over brownies.
You can also substitute walnuts for pecans.
Dark chocolate chunks can be chopped up and put on instead of the chocolate chips.
Mix half of the chocolate chips in the batter before putting it in the pan.
Recipe submitted by Rachel, South Whitley, IN
Published on November 3, 2009