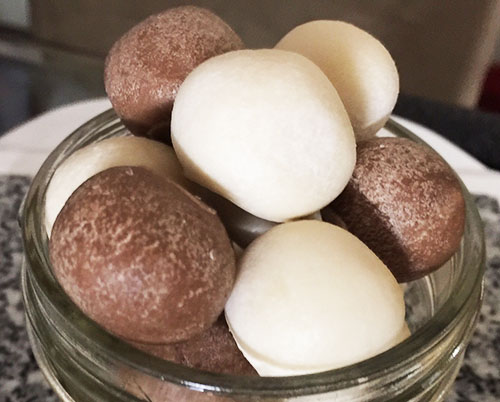 Coconut Collagen Balls
photo by recipe author
Servings: 20
Preparation Time: 40 minutes
If the coconut cream concentrate is solid, warm it by placing the jar in a pan of hot water. After 5 minutes, when the cream melts, stir it gently till it is uniformly smooth. Once creamy, measure 1/2 cup of coconut cream concentrate into a bowl. Add collagen peptide powder, honey, vanilla extract, coconut oil, and salt. Also add the cocoa powder, if using. Mix very well using a fork. When the mixture is uniform, shape into bite size balls and keep them in a baking tray or a plate. Refrigerate for 30 mins.
Mix very well. When the mixture is uniform, shape into bite size balls and keep them on a baking tray or a plate. Refrigerate for 30 minutes.
Alternatively, the mixture can be patted into a baking pan. Score it using a knife to make bite-size squares and keep the pan in the refrigerator for 30 minutes.
Enjoy as a hard candy or, if desired, let them soften slightly at room temperature before eating.
Store in the refrigerator.
Sheetal from Foster City, CA won $50 for this recipe and photo! Submit your recipes and photos here for a chance to win $50!
Featured Product
Collagen is the most abundant protein in the body and is a key constituent of all connective tissues. Collagen provides the infrastructure of the musculoskeletal system, essential for mobility. Peptides are short-chain amino acids naturally derived from collagen protein. These natural peptides are highly bio-available, digestible and soluble in cold water.
Collagen is a natural ingredient that has been used for centuries. Collagen-rich foods are a large part of traditional diets. Our ancestors utilized whole-animal nutrition, which provided an abundant amount of collagen, the native form of gelatin. Over time, we have lost touch with this powerful superfood.
Vital Proteins Collagen Peptides are sourced from pasture-raised bovine hides from Brazil to ensure a natural, high quality, and sustainable source of this ancient nutritional powerhouse.
Our cattle graze on lush grasslands in Brazil and are not given hormones, steroids, or antibiotics. They eat their natural diet – grass and receive plenty of open space and sunshine. We believe in providing our animals with an environment that nature intended, and the result is a high-quality protein that is natural and pure.
Learn more about Vital Proteins Collagen Peptides here. Buy it here!
Published on May 3, 2017