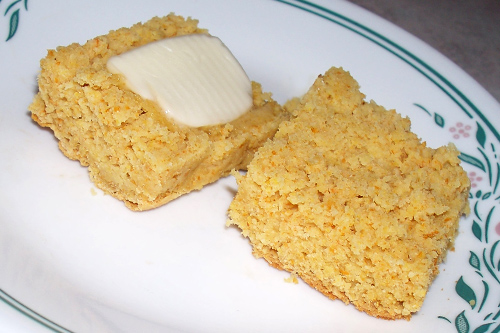 example photo shown
Gluten-free, dairy-free, egg-free
1 cup cornmeal
1 cup rice flour
1/2 teaspoon salt
4 teaspoons baking powder
1 teaspoon xanthan gum
1 tablespoon ground flax
3 tablespoons boiling water
1/4 cup coconut oil, solid
1 cup almond milk or coconut milk*
1/4 cup honey, or less
Preheat oven to 425 degrees.
Sift together first 5 ingredients. Mix flax and boiling water together and let sit for 5 minutes until it reaches an egg-like consistency.
Add coconut oil to dry ingredients and mix together with your fingers (or a pastry cutter) until it becomes a course meal. Mix flax mixture, honey and almond or coconut milk together and add to dry mixture. Mix just until combined.
Pour into an 8 inch square pan or muffin tins greased with coconut oil. Bake for 20-25 minutes in preheated oven.
*For coconut cream milk mix approximately 2 1/2 teaspoons coconut cream concentrate with 1 cup water or make homemade coconut milk.
Recipe submitted by Carlee, Salem, OR
Published on April 4, 2009