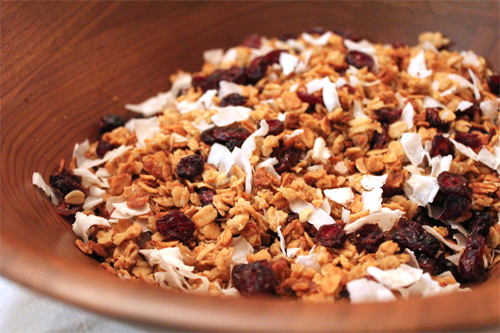 Coconut Cranberry Granola Recipe
photo by recipe author
Servings: 10
Preparation Time: 15 minutes
Serving size: 1/2 cup
1. Preheat oven to 375 degrees ºF.
2. Melt and mix coconut oil, butter, honey, sugar, water, and cinnamon in glass measuring cup.
3. Spread old fashioned oats in a 9×13 inch baking pan. Pour in the liquid mixture of the coconut oil & other melted ingredients, and stir until all the oats are saturated.
4. Bake in preheated oven for 20 minutes, uncovered. Remove from oven and flip over sections of the oats with spatula until all are overturned. Bake for another 15 minutes uncovered. Remove again, stir, and add a final 10 minutes in the oven uncovered until all are evenly lightly browned. (Total baking time is 45 minutes.)
5. Once cooled, add and mix in dried cranberries and coconut chips.
Serve plain, or with milk, (or coconut milk*), or serve as a topping to yogurt, ice cream, etc.
* For the freshest coconut milk make homemade coconut milk. (See video at this link.)
Recipe submitted by Zsofie , Southfield, MI
Published on January 15, 2014