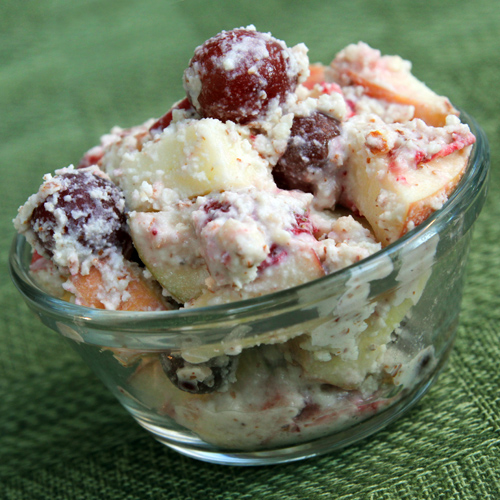 Coconut Cream Almond Fruit Salad
Prepared by Sarah Shilhavy, Photo by Jeremiah Shilhavy
Servings: 8+
Preparation Time: 10 minutes
Fruit:
3 apples
1 cup grapes
1 cup frozen berries
Other fruit of choice (if desired)
Dressing:
1. Cut apples into cubes and combine with frozen berries and grapes in a big bowl.
2. In a blender, blend together coconut milk, coconut cream concentrate, honey, and almonds.
3. Pour dressing over fruits and serve chilled. Enjoy!
* For the freshest coconut milk make homemade coconut milk. (See video at this link.)
Recipe submitted by Isabella, San Jose, CA
Published on August 20, 2010