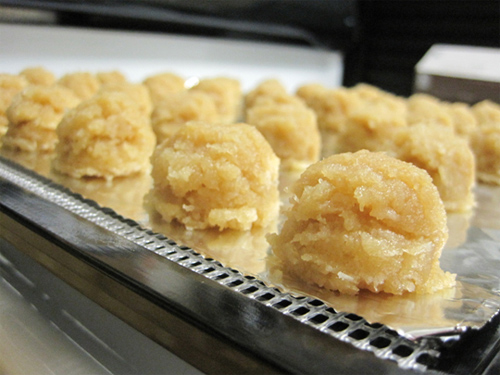 Coconut Cream Blonde Macaroons Recipe
photo by recipe author
Servings: about 2 dozen Preparation Time: 30 min prep, varies
First, you'll need to use the 2 2/3 cups of shredded coconut to make homemade coconut butter, or just 1 cup of Coconut Cream Concentrate instead. Blend the coconut in a high-powered blender or food processor until creamy. (It's okay if the texture is slightly grainy.) To the coconut butter, add the rest of the ingredients, and mix well until a batter forms.
These macaroons can be baked in an oven, or gently dried in a dehydrator. For the oven, preheat to 300 degrees F and drop batter by rounded tablespoons onto a baking sheet lined with parchment paper. Bake for 20-25 minutes, until the outsides are crispy, then allow to cool for an additional 25 minutes before removing from the pan to cool completely.
If using a dehydrator, simply drop the batter by rounded tablespoons onto the mesh sheets, and dry at 118 degrees F for up to 24 hours, or until desired crispiness is achieved.
Recipe submitted by Megan, Los Angeles, CA
Published on May 16, 2012