Preheat oven to 300 degrees F.
Beat the coconut cream, sugar eggs and vanilla together until combined. Stir in baking soda, cream of tarter and salt. Beat in the flour.
Shape dough into balls using one tablespoon of dough per cookie.
Place on ungreased cookie sheet, about 2 inches apart. Bake in preheated oven for about 15 minutes. The sides should be set but not browned.
Remove from oven and let set on pan for 1-2 minutes before putting on racks to cool completely.
Makes 40 cookies.
Recipe submitted by Vickie, Modesto, CA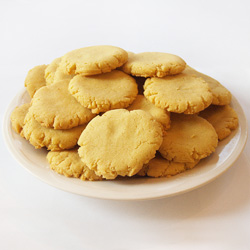 Prepared by Sarah
Shilhavy
Photo by Jeremiah Shilhavy
Published on August 11, 2009