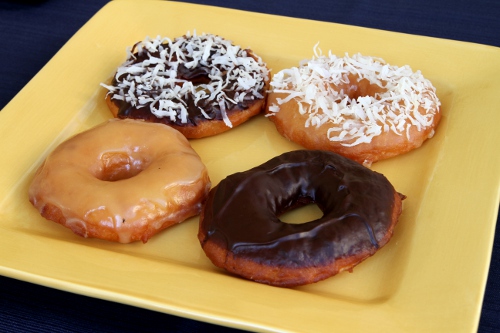 Coconut Cream Doughnuts
Prepared by Sarah Shilhavy, Photo by Jeremiah Shilhavy
2 hours prep time
15 servings
Coconut Cream Glaze:
Sprinkle yeast over warm water and let stand for 5 minutes, or until foamy.
In a large bowl of an electric mixer, mix the yeast mixture, sugar, salt, milk, shortening (1/3 cup), eggs, and 2 cups of flour. Mix for a few minutes on low speed. Add remaining flour a heaping 1/2 cup at a time until the dough no longer sticks to the bowl. Knead for about 5 minutes, until smooth and elastic.
Place the dough into a coconut oil greased bowl and cover with a damp towel. Set in a warm place to rise until doubled.
Turn dough onto a floured surface and gently roll out to about 1/2 inch thickness. Cut with a floured cutter. Cover with a light cloth and let doughnuts rise until doubled.
Heat 3 cups palm shortening and 1 cup coconut oil in a deep fryer or large pot/skillet to 350 degrees F. Using a wide metal spatula, place doughnuts into oil and fry on each side until golden brown. Drain on wire racks and dip into glaze while warm.
Coconut Cream Glaze:
Place all ingredients except heavy cream into a small saucepan over low heat. Whisk until butter is melted, adding heavy cream until desired consistency is reached. Mixture will look oily and curdled at first but keep adding heavy cream and it will come together.
Recipe courtesy Sarah Shilhavy
Published on September 27, 2010