Cooler whether is coming. In some places it seems like winter's already here. Hot Cocoa or Hot Chocolate is a classic winter drink that can be easily whipped up at any time. It's one of my favorite hot drinks, especially topped with a fluffy dollop of vanilla whipped cream.
One of my favorite recipes for Hot Chocolate is the Coconut Cream Hot Chocolate, made with coconut cream concentrate. It's so unbelievably good that it doesn't even need extra cream! Me being me however, I will almost always add dairy for that extra creamy richness. See the picture below? It has a bit of heavy cream in it, giving it that milk chocolate brown color.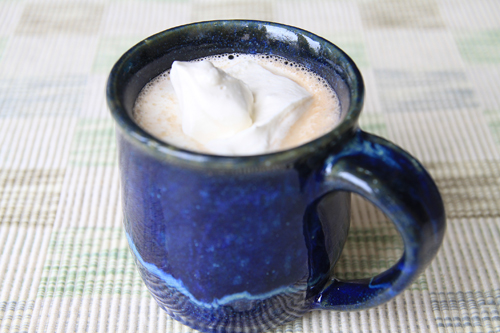 Don't let the strange ingredients list turn you off; this is really amazing stuff. Follow it exactly, and do not skip the nutmeg! Use just a tiny pinch of freshly grated nutmeg and trust me; it does make a difference, for the better. Using the exact amount of water is also important. If you use too little it'll be gritty; too much and it'll be bland.
If you wanted to make this a high energy drink, simply add a couple tablespoons or so to the mug and enjoy before a workout. If you use virgin coconut oil it'll add more of a coconutty taste. The drink itself is not very coconutty, but if you wanted it to have more of a coconut taste, add some coconut extract, more coconut cream concentrate, or the oil.
Hot Chocolate isn't complete without whipped cream though, right?
To make the fluffiest whipped cream, chill your bowl and metal beater(s) in the freezer for at least 10 minutes. Make sure your heavy cream is also well chilled. Pour the desired amount into your chilled bowl and add a bit of vanilla extract and raw honey to taste. I never measure when it comes to whipped cream; everything goes by taste. I know, that's extremely helpful, huh? Don't worry though, it's not that hard.
After you have everything measured out, turn the mixer with your frozen beaters on and whip the cream, starting out on a low speed and working up to a higher speed after about 30 seconds, or when the cream looks bubbly. The cream is done when it stands in stiff peaks. Stiff peaks are when the cream stands up without flopping down when you lift the beaters straight out of the bowl. Some cream should cling to the beaters as well. Be careful though to not over-beat the cream; it only takes a few seconds to go from perfect cream to clumpy stuff. It's always best to err on the side of under-beaten cream. If you over do it, add more heavy cream to the mix and beat that in. If however, it's already gotten into the clumpy butter stage, it's hopeless. Just keep mixing until the butter separates from the buttermilk and then you'll have fresh butter. 🙂
Some people add the vanilla and raw honey during the last stages of mixing, when the cream is nearing stiff peaks. I usually don't though; it really doesn't make that big of a difference.
So tell me, what's your favorite hot drink?
Sarah Shilhavy
Photos by Jeremiah Shilhavy
Coconut Cream Hot Chocolate
2 teaspoons coconut cream concentrate
2 teaspoons cocoa powder
pinch of nutmeg
¼ teaspoon vanilla extract
dash of salt
1 tablespoon raw honey
milk or cream to taste ? optional
12 oz. boiling water
Put all ingredients except the water into a 12 oz cup. Add water last and stir. Let cool a bit and enjoy!
Published on October 16, 2009