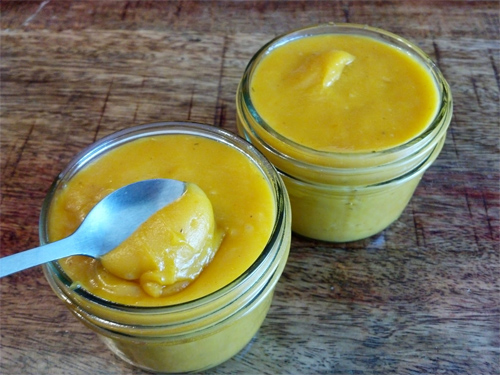 Coconut Cream Lilikoi Butter
photo by recipe author
Servings: 1.5 cups
Preparation Time: 60-70 minutes
18 oz lilikoi pulp (yellow passion fruit)
6+ tablespoons
raw honey, to taste
Simmer the lilikoi in a small saucepan at the lowest heat setting until it is reduced by one-third to one-half (about 45-60 minutes). Turn off the burner.
Stir in the coconut cream concentrate until dissolved. If the CCC is solidified, dip a metal 1/4 cup measure into hot water and then scoop. Add raw honey and mix.
Pour into sterilized half-pint jars. Refrigerate one jar to eat right away. Can the rest for later using the water bath method or freeze it.
Best served at room temperature as the coconut cream will solidify in the fridge.
Leilani from Fremont, CA just won $50 for this recipe and photo!
Submit yours
here.
Published on June 2, 2014