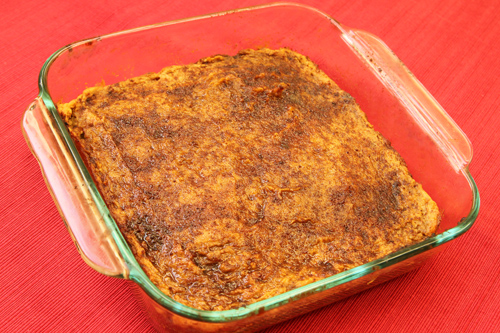 Coconut Cream Sweet Potato Bake
Prepared by Marianita Shilhavy, Photo by Jeremiah Shilhavy
Servings: 6-8
Preparation Time: 15 minutes
Preheat oven to 350 degrees F. Grease an 8×8 pan with coconut oil.
Place sweet potato and coconut cream concentrate into the bowl of an electric mixer. Mix on medium high speed until well blended.
Add eggs, sugar, vanilla 2 teaspoons cinnamon, and 2 tablespoons butter. Blend until well mixed.
Spread sweet potato mixture evenly into prepared pan.
Brush mixture with 2 tablespoons melted butter and sprinkle on remaining cinnamon and sugar.
Bake at 350 degrees F for 45 minutes.
Enjoy
Recipe courtesy Marianita Shilhavy
Published on November 16, 2010