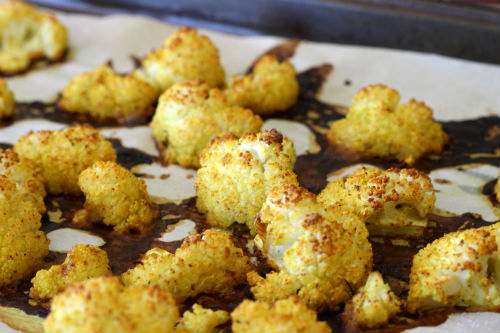 Coconut Curry Cauliflower
photo by recipe author
Servings: 4
Preparation Time: 10 minutes
1/2 cup full fat coconut milk (the thicker the better)*
1 1/2 teaspoons (or more) curry spice blend
1 head of cauliflower, cut into pieces
sea
salt, to taste
Preheat oven to 425 degrees ºF.
Whisk together the coconut milk and curry powder in a bowl.
Place 1/3 of the cauliflower pieces in the milk mixture and coat. Place the cauliflower onto a parchment lined cookie sheet and repeat the process with the remaining cauliflower. Pour the remaining milk over top and sprinkle with sea salt.
Bake in preheated oven for about 25 minutes or until the cauliflower starts to brown. Serve hot.
* For the freshest coconut milk make
homemade coconut milk. (See video at this
link.)
Kate from Highlands Ranch, CO just won $50 for this recipe and photo!
Submit yours here.
Published on May 7, 2014