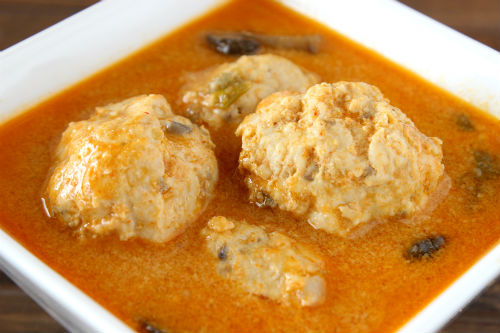 Coconut Curry Chicken Meatball Soup Recipe
photo by recipe author
Servings: 3-4
Preparation Time: 10
1 bunch green onions
8 oz mushrooms, shiitake or button
1 lb ground chicken breast
1/2 pastured egg, beaten
1 garlic clove, finely minced
1 teaspoon salt
14 oz full fat coconut milk*
1/2 cup chicken broth (preferably homemade)
1 tablespoon organic fermented soy sauce
1 1/2 tbsp red curry paste
1 1-2 inch piece of peeled fresh ginger
Chop the whites off of the onions and set the greens aside for the soup. Finely chop 1/2 cup of the mushrooms and save the rest for the soup.
Combine the chicken, egg, chopped whites, chopped mushrooms, minced garlic and salt in a bowl.
Form the meat into desired size meatballs and place in the bottom of the crockpot.
Combine the coconut milk, broth, soy sauce and curry paste in a mixing bowl. Add the remaining mushrooms and chopped greens from the onions. Pour over the meatballs and place the piece of ginger into the liquid.
Cook on high for 2 1/2 to 3 hours, add salt if needed
Quick notes
I imagine this will work in a soup pot or could also be cooked on the low setting of your crockpot for longer if need be. You could add some additional vegetables such as broccoli, red pepper and snow peas if you wanted to. It may not be as soupy, but still good!!! This would also be great served over cauliflower rice or white rice if you tolerate it.
* For the freshest coconut milk make homemade coconut milk. (See video at this link.)
Recipe submitted by Kate, Highlands Ranch, CO
Published on January 1, 2014