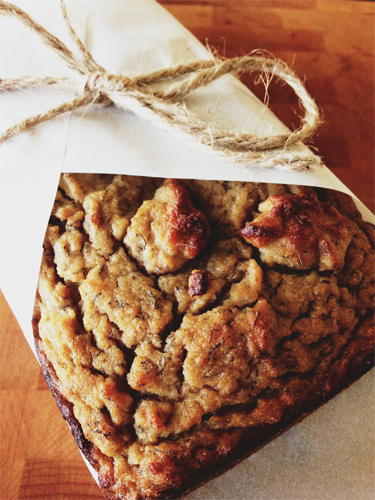 Coconut Flour Banana Bread with Maple Nut Butter Recipe
photo by recipe author
Servings: 6-8
Preparation Time: 20 minutes
Maple Nut Butter
Preheat the oven to 350 degrees ºF. Grease a 1 pound loaf pan.
Combine all ingredients for bread and blend until thoroughly mixed. Continue blending on medium speed for 1 minute to allow coconut flour to soak up the liquids.
Pour batter into the greased loaf pan and bake for 45-50 minutes or until a tester comes out clean. Allow bread to set and cool slightly before removing from pan. Slice and enjoy topped with a dollop of sweet & creamy maple nut butter!
Maple Nut Butter:
Slice butter and bring to room temperature. Using a food processor or nut chopper, finely chop the walnuts. Add butter, syrup, and cinnamon and whip (with a hand blender) until light and fluffy.
Spread onto freshly baked banana bread!
Recipe submitted by Caroline, Honolulu, HI
Published on September 18, 2013