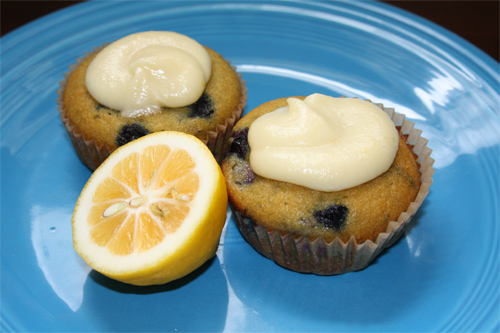 Coconut Flour Blueberry Cupcakes with Lemon Curd Coconut Frosting Recipe
photo by recipe author
Servings: 12 cupcakes
Cupcakes:
1. Preheat oven to 350 degrees F.
2. Line cupcake pan with 12 liners.
3. Combine the eggs, coconut oil, honey, vanilla and lemon juice together with an electric mixer.
4. Mix in the salt, baking soda and coconut flour until there are no lumps.
5. Gently fold in the blueberries.
6. Scoop generous 1/4 cup measures of the mixture into each cupcake liner.
7. Bake for 25 minutes, or until they spring back when touched lightly.
Lemon Curd
2 tablespoons palm shortening, ghee or butter
1/4 cup freshly squeezed lemon juice (approx. 1 1/2 to 2 lemons)
2 eggs
Small pinch of salt
1/4 cup honey
Zest from 1/2 lemon (approx. 1 teaspoon)
1. Place palm shortening into the freezer in 1/2 tablespoon size pieces.
2. Blend the lemon juice, eggs and salt together.
3. Combine with the honey in a small saucepan and heat slowly, whisking frequently, until it reaches 170F/76C or thickens till it leaves a trail when the bottom of the pan is scraped (do not let it boil).
4. Remove from the heat and immediately whisk in the palm shortening until incorporated then stir in the zest.
5. Set aside to add to frosting or make it ahead and store in the fridge for up to a week in an airtight container.
Lemon Curd Coconut Frosting
1. Place coconut cream concentrate, palm shortening and honey in a double boiler, or a bowl over a saucepan of water and melt.
2. Stir to combine until there are no lumps then take off the heat and stir in the lemon curd.
3. Let frosting cool to room temperature and place in a piping bag to frost cupcakes. You can speed up the cooling by placing in the fridge but it needs to be stirred every 10 minutes or so to ensure it doesn't get lumpy and to watch it doesn't cool too much and set.
4. If it does set, or you want to make the frosting ahead and store it in the fridge, simply sit it on the bench until it comes back to room temperature before using.
5. The cupcakes can be stored for a few days in the fridge but they are best eaten with the frosting at room temperature so take them out a few hours before serving.
Recipe submitted by Renee, Seattle, WA
Published on November 15, 2013