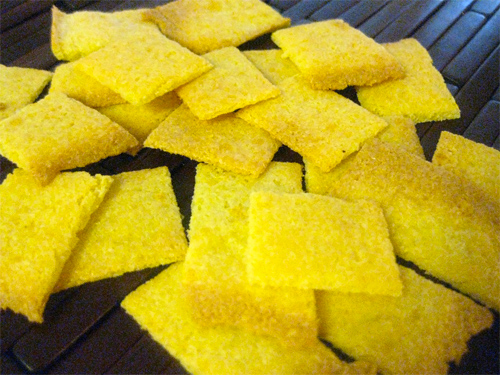 Coconut Flour Cheese Crackers
photo by recipe author
Servings: about 32 crackers
Preparation Time: 30 minutes
Pre-heat oven to 400 degrees.
Using a high power blender or food processor, blend all ingredients together until they are well combined.
Spread cracker batter over a parchment paper lined cookie sheet. Place another piece of parchment paper on top of mixture and use a rolling pin to thinly spread batter. Gently pull off the parchment paper.
Bake crackers for 10 minutes. Take the crackers out of the oven and score them with a knife or pizza cutter. Return to oven and continue to bake until they are lightly brown and crisp, 5-10 minutes.
Recipe submitted by Tiffany, Junction City, OR
Published on October 17, 2011