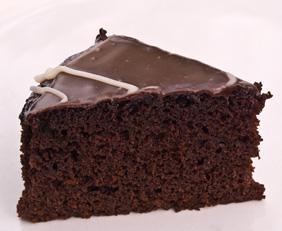 Pre-heat oven to 350 degrees. Grease two 9 inch or 8 inch layer pans with coconut oil and dust with cocoa powder.
In an electric mixer fitted with the paddle attachment, combine butter and sugar, and beat together for about 2 minutes. Add eggs in one at a time and beat high speed for about 3 minutes. Add in the vanilla while beating the eggs and butter mixture. In a separate bowl, combine the dry ingredients together and add alternately with the milk to the butter mixture. Beat batter for about five minutes on high speed. Spoon batter into the two prepared cake pans and smoothen out tops. Bake at 350 for 30-35 minutes, or until toothpick inserted into the center of cake comes out clean. Place pans on wire rack and cool for 10 minutes before removing from pans. Cool cakes completely before frosting. Use your favorite frosting to frost the cake.
Peppermint Chocolate cake variation: add 1 teaspoon peppermint extract to batter before pouring into pans and mix well. Frost cake with peppermint frosting or frosting of your choice.
Cupcakes: Make recipe as directed but spoon batter into muffin cups and bake for about 26-30 minutes. Frost after cupcakes have cooled completely. Makes about 24 cupcakes.
Published on December 16, 2011