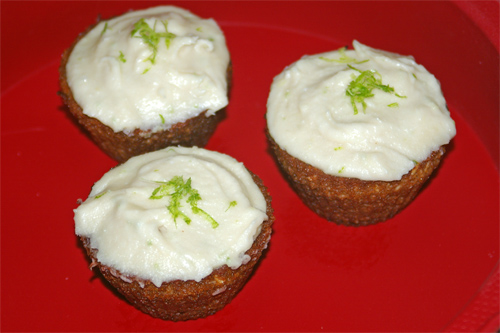 Coconut Flour Coconut Cupcakes with Lime Icing Recipe
photo by recipe author
You can make these cupcakes lemon or orange, just switching out the citrus zest and juice
Servings: 8-10 cupcakes
Preparation Time: 15-20 minutes
Key Lime Icing
1/4 cup raw honey
1 tablespoon coconut oil
1 teaspoon finely grated lime zest
Juice of 1/2 lime (about 2 tablespoons)
1/2 teaspoon vanilla extract, optional
2-4 tablespoons coconut milk*
Cupcakes:
Preheat oven to 340° degrees.
In a small bowl blend eggs, coconut oil and maple syrup with a hand blender. Stir in coconut flour, salt, baking soda and shredded coconut, beating 1 minute.
Line a cupcake tin with unbleached baking cups. Spoon batter into each cupcake liner, making 8 large (about 1/4 cup per cupcake or 10 medium.)
Bake at 340° for 20 minutes on middle oven rack.
Remove cupcakes from oven and allow to cool for 20 minutes. Frost with Key Lime Icing and serve.
Icing:
If needed, soften coconut cream jar in warm water. Mix all the ingredients together until well mixed and smooth. Add coconut milk 1 tablespoon at a time, beating well. Ice cupcakes. Top with Lime zest or toasted coconut.
* For the freshest coconut milk make homemade coconut milk. (See video at this link.)
Recipe submitted by Sondra, Telford, PA
Published on June 29, 2012