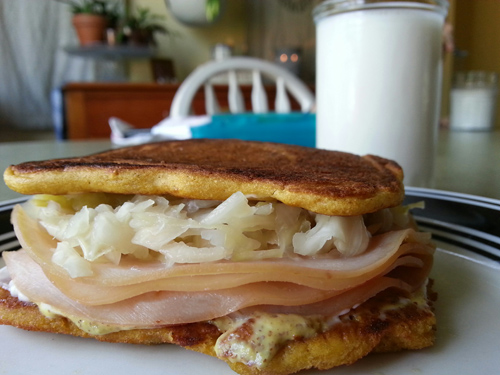 Coconut Flour Flatbread
photo by recipe author
Servings: 2-4 flatbreads
Preparation Time: 15-20 minutes
1 large egg or 2 egg whites
1 tablespoon coconut flour
1 tablespoon nutritional yeast
1 teaspoon dried, minced onion
1/4 teaspoon (more or less to taste) yellow curry powder
1/8 teaspoon baking soda (half of a quarter teaspoon)
1/8 teaspoon baking powder
a pinch or two of sea salt
2-4 tablespoons milk of choice or water
Healthy fats for frying, such as coconut oil or butter
Whisk one large egg or two egg whites. Add remaining ingredients and mix well. Let the mixture sit a few minutes to let the coconut flour absorb the liquid. You may need up to four tablespoons of liquid to get the consistency you like. If you want to make square, bread-shaped flatbreads for sandwiches, you'll want a batter slightly thicker than pancake batter.
Heat a cast iron skillet over medium high heat and add a couple teaspoons or so of fat to melt. When water droplets sizzle in the pan it's ready for your flatbreads.
For two flatbreads, pour half the batter in the pan and shape as desired. Cook like a pancake, flipping when the edges are dry and there are small bubbles on the surface. Repeat with remaining batter.
For four flatbreads, spoon about two tablespoons of batter into the pan for each flatbread, shaping as desired. Cook like a pancake.
Let them cool if you're going to use for cold sandwiches, or for grilled sandwiches, let them cool enough to handle safely. Then butter the sides and use like you would for grilled cheese.
You can add any seasonings to these flatbreads to change the flavors, such as Italian, Creole for something spicy, or leave out savory spices and nutritional yeast and add stevia and cinnamon for something sweet.
Dawn from Syracuse, IN just won $50 for this recipe and photo! Submit yours here.
Published on January 5, 2015