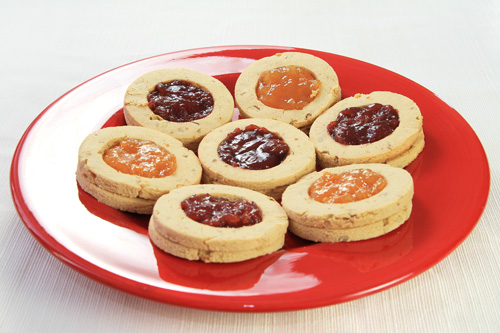 Gluten Free Coconut Flour Linzer Tarts
Prepared by Sarah Shilhavy, Photo by Jeremiah Shilhavy
Preheat oven to 350 degrees. Grease cookie sheets with coconut oil.
Mix together flour, baking powder and salt and set aside.
Cream together butter, coconut oil and sugar. Add eggs one at a time, add vanilla. Add almonds followed by flour mixture, 1/2 cup at a time.
Roll dough out between 2 sheets of wax or parchment paper and cut into circles. Cut a smaller circle in half of the cookies.
Transfer to prepared cookie sheets and bake for 12 minutes, or until lightly browned. Move to wire racks to cool.
When completely cool, assemble. Place a small dollop of fruit spread on the cookie without the hole and cover with a cookie with the hole. Dust powder sugar over the top (optional).
Recipe submitted by Claire, Grant, FL
Published on November 20, 2009