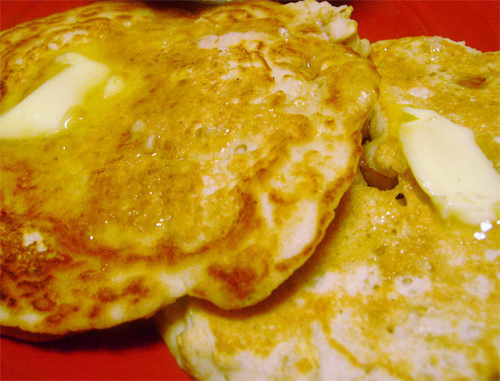 Coconut Flour Oat Pancakes
Photo by recipe author
Servings: 2
Preparation Time: 20 minutes
In a small bowl, whisk together coconut flour, oatmeal, light coconut milk, egg, and salt.
Over medium heat, heat 1 teaspoon coconut oil in a pan. Add 1/4 of the coconut flour mixture to the pan, and cook until bottom is set. Flip and cook until other side is done as well.
Remove from the pan to a plate and repeat for the rest of the batter. Top with grass-fed butter, organic maple syrup, and shredded coconut.
Recipe submitted by Evan, Marlborough, MA
*Use 1 teaspoon of coconut cream concentrate for every 6-8 oz of water for coconut cream milk. Mix together and use as directed or make homemade coconut milk.
Published on April 7, 2010