I like oatmeal cookies. Do you?
This recipe was delicious. Very different, yes, but still delicious.
The strangest thing about them is that they go into the oven and come out of the oven looking pretty much the same way as they did when they went in. I was already expecting that after looking the recipe over, but it was still strange to see the un-melted toasting cookie balls grinning at me every time I walked by the oven.
When mixing the dough, don't worry about the texture not being "right". It'll form itself into a sticky-ish almost crumbly looking mixture, but that's normal. Don't panic and throw it out, 'cause you'll just end up with the same results when you start over.
The nice thing about this dough is that you can mix for as much as you need to. Coconut flour (unlike wheat flour) will not become glutinous after a lot of mixing. So there's no worry about tough cookies.
After you've mixed the dough, you can shape it into tablespoon sized balls using a measuring tablespoon as a guide or a small cookie scoop. Your choice. I liked using my hands.
I liked the idea of keeping the cookies in a ball, but if you want the traditional flat round just press each ball down flat with your hand (but not too flat) and bake for about 6 minutes. Just keep an eye on them, they'll bake pretty quickly.
The texture of the cookies was a little different too. They have a buttery, soft inside with a slightly crisp, almost flaky outside. Sounds good, doesn't it?
Enjoying cookies,
Sarah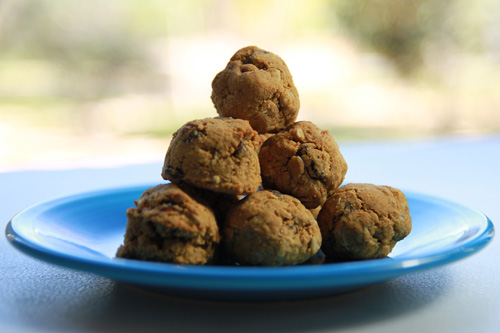 Coconut Flour Oatmeal Raisin Cookie Balls
Prepared by Sarah Shilhavy, Photo by Jeremiah Shilhavy
Coconut Flour Oatmeal Raisin Cookie Balls
Servings: approximately 25-27 cookies
Preparation Time: 20 minutes
Heat oven to 350 degrees F. In large bowl, beat butter and sugar on medium speed with an electric mixer until creamy. Add eggs and vanilla; mix well.
In a separate bowl combine coconut flour, baking soda, garam masala or cinnamon and salt. Add oats and raisins; mix until thoroughly combined. Then combine dry ingredients with the creamed sugar/egg.
Beat on low speed until well incorporated. (The mixture will have an oddly loose consistency due to the lack of liquid in this recipe, but fear not.)
Roll cookie dough into balls, using approximately 1 tablespoon of dough per ball. Place each dough ball on an ungreased cookie sheet.
Bake 10-12 min. (depending on your oven) until the cookies are golden brown on top. Remove from over, break one open and check the center. If the test cookie seems undercooked in the middle, return the baking sheet to the oven for 2 more minutes, being careful not to let the bottoms burn.
Remove the cookies from the oven, let cool for 1 minute on the cookie sheet. Transfer cookies to a plate or wire rack and cool completely.
Store in a zipper bag or tightly-covered container. These will keep for 7-10 days but mine never last that long!
Recipe submitted by DH, Baltimore, MD
Published on January 12, 2010