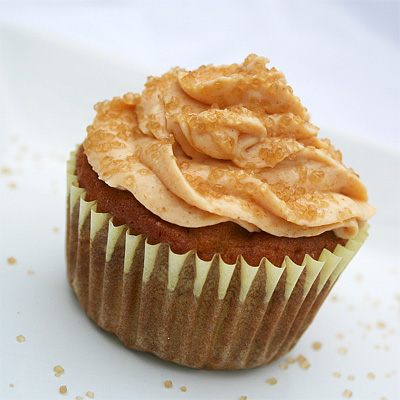 Gluten Free Persimmon Coconut Flour Muffin
Photo by recipe author
Servings: 6
Preparation Time: 15 minutes
Persimmon Cream Cheese Topping:
1 cup homemade cream cheese (you can sub. store bought cream cheese)
3/4 cup pureed persimmons
1 1/2 tablespoons raw honey
1 teaspoon cinnamon
1/2 teaspoon ground nutmeg
Muffins:
1. Preheat oven to 350 degrees F. In a small bowl, combine coconut flour, salt and baking soda.
2. In a large bowl combine eggs, honey, coconut oil and vanilla and blend well with a hand mixer.
3. Mix dry ingredients into wet, blending with a hand mixer.
4. Gently fold in persimmons.
5. Place batter in paper lined muffin tins.
6. Bake in preheated oven for 20-25 minutes.
7. Cool and frost.
Makes 12 muffins
Persimmon Cream Cheese Topping:
Combine all ingredients and add more honey or spices to taste. Add a dollop of persimmon cream cheese topping on the muffins and sprinkle with cane sugar.
Recipe submitted by Diana, Des Moines, IA
Published on November 21, 2009