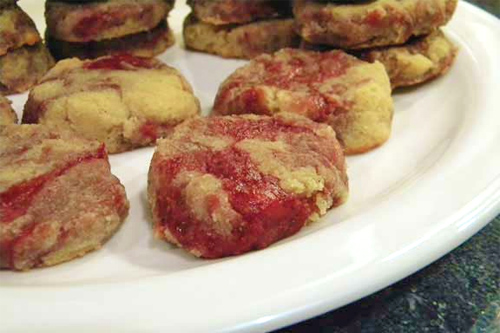 Coconut Flour Strawberry Shortcake Medallions
photo by recipe author
Servings: 27 cookies
Preparation Time: 1 hour 15 minutes
Rinse and clean 1 pound of strawberries. Remove the stems and cores, and slice thinly. In a thick bottomed pan, melt 1 tablespoon coconut oil, add the strawberries. Bring to a boil, then reduce heat until simmering. Stir regularly. Simmer at low heat reducing strawberries until they measure 1/2 cup. It will take about 50 minutes. Cool strawberry jam thoroughly before proceeding to the next step.
Sift coconut flour and pack into 1/2 cup measurement. Cut the excess off the top with a straight knife. Place into a bowl, along with remaining coconut oil, eggs, honey, vanilla and vanilla bean caviar. Whip with a hand mixer for 1-2 minutes. Allow cookie dough to rest for 5 minutes to allow coconut flour to absorb the liquids. The cookie dough will be very soft.
Place cooled strawberry jam in with the cookie dough and lightly stir. You are looking for a swirled effect in the cookies as shown in the photograph.
Preheat oven to 325°F. Lightly grease a cookie sheet.
Drop by level tablespoons onto the cookie sheet. Moisten fingertips with coconut oil and lightly pat and tap the cookie dough into a round shape.
Bake for 10 minutes. Cookies will lose their shiny look when done, and will feel firm to the touch. If pressing lightly leaves a dent, bake 1-2 more minutes.
Recipe submitted by Starlene, Phoenix, AZ
Published on May 30, 2012