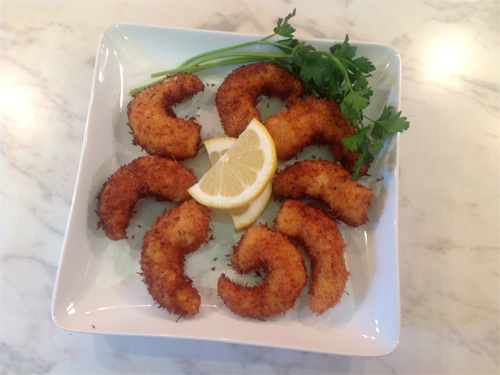 Coconut Fried Shrimp Recipe
photo by recipe author
Servings: 2
Preparation Time: 5 minutes
1. Mix the salt in a bowl with whole wheat flour, whisk the eggs in another bowl, and pour the shredded coconut in a third bowl.
2. Heat palm shortening in a cast iron skillet, or other pan that is safe for high heat. Use enough to come 3/4 of the way up the shrimp. Dip each shrimp in the flour, then the eggs, and finally in the coconut. Set them gently in the hot oil. Cook 30 seconds to 1 minute per side.
3. Serve hot with dipping sauces of choice.
*If gluten free, use gluten free flour of choice.
Recipe submitted by Cristina, Oklahoma City, OK
Published on November 6, 2013