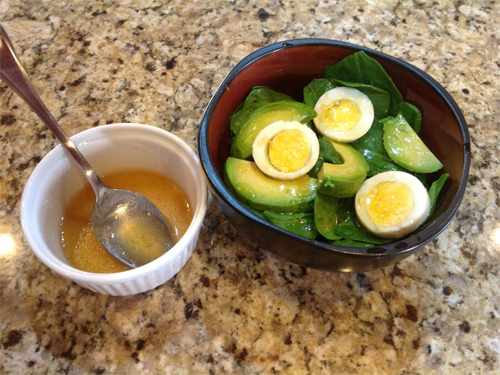 Coconut Ginger Dressing
photo by recipe author
This dressing has become a favorite – very light, great on spinach!
Servings: 4-6
Preparation Time: 10 minutes
2 tablespoons virgin coconut oil
2 tablespoons raw honey
2 tablespoons lime juice
1/2 teaspoon fresh grated ginger (add more if you like ginger)
1/4 teaspoon salt
Recipe: Combine grated ginger, coconut oil & honey. Heat gently to melt oil. Add lime juice and salt. Shake to combine all ingredients.
Refrigerate any leftovers. Once removed from the refrigerator, will need to heat it over very low heat or allow to get to room temp – oil will solidify and need to melt. Shake again and add to salad.
Recipe submitted by Lisa, Edmond, OK
Published on April 17, 2013