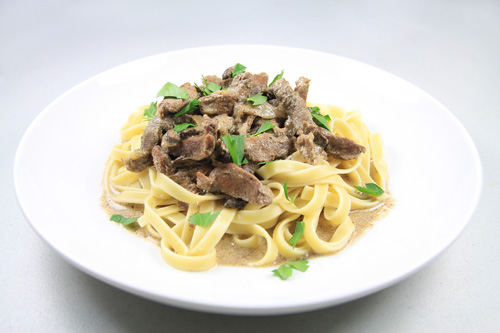 Coconut Grass-fed Beef Stroganoff served with fettuccini pasta and parsley
Prepared by Marianita Shilhavy, Photo by Jeremiah Shilhavy
This version of the classic Russian dish can be divided into half for 2 meals. This recipe is good when you have company or when you want to make more than 1 meal at a time to save time.
The coconut flour is a great addition to the recipe for extra fiber. Coconut water vinegar adds flavor and tenderizes the meat, giving it a nice texture.
We used the grass-fed sirloin tip roast from our Galloway beef which was 3.8 lbs.
Servings: 10 – 12
Preparation time: 10 minutes
3 tablespoons coconut oil
5 cloves garlic, minced
1 large onion, chopped
3.8 lbs. sirloin tip roast, cut into strips
3 (8 oz) containers mushrooms, sliced
1 tablespoon dill weed
1/2 cup red wine
1/2 cup beef or chicken stock
2 tablespoons coconut water vinegar
1 tablespoon Worcestershire sauce
3 tablespoons coconut flour
1 tablespoon tapioca flour/starch or cornstarch
1 16 oz container sour cream
1/2 cup chopped fresh parsley
Grease the bottom of the slow cooker pot with extra coconut oil. Set aside.
In a medium skillet heat the 3 tablespoons of coconut oil and sauté garlic and onion until browned and aromatic. About 1-2 minutes.
Place the beef strips in the slow cooker, season with salt and pepper to taste. Place onion and garlic on top of beef, then add mushrooms and dill weed. In a small bowl mix together red wine, stock, coconut water vinegar, Worcestershire sauce, tapioca and coconut flour. Pour over the beef. You can add more stock during cook time if desired.
Cover, and cook on high for 2 hours, then cook on low for 1 1/2 hours. During the last hour stir in sour cream and parsley, continue cooking until beef is tender and cooked through (each slow cooker will vary on cooking time). (You can also cook this on low for about double the time).
Serve over egg noodle or fettuccini pasta (use gluten-free if needed) with extra sour cream and topped with extra parsley if desired. Enjoy!
Recipe courtesy Marianita Shilhavy
Published on October 13, 2009