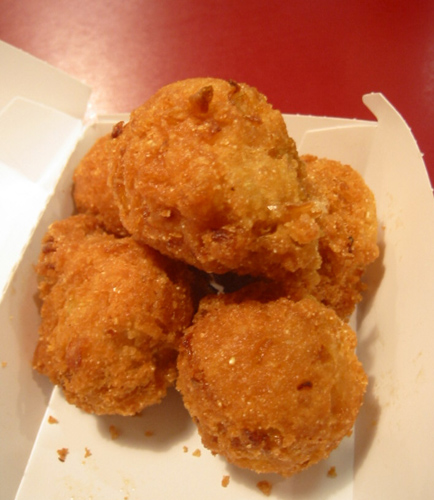 example photo shown
original image source here
Dry ingredients:
Dissolve rapadura sugar in boiling water in a 2 cup heat-proof measuring cup.
In a large bowl, combine all dry ingredients together. Drizzle expeller-pressed coconut oil over dry ingredients and chop in with a pastry blender till mixture looks like coarse cornmeal. Stir in onions.
Add the eggs to the cooled sugar water in the 2 cup measuring cup and beat with a fork. Add enough evaporated milk to make 2 cups of liquid and beat some more. Stir into dry ingredients and let sit for 20 to 30 minutes, so the coconut and cornmeal can absorb the liquid.
Heat whatever oil you're using to 450º F and drop batter in by spoonfuls…or use a melon baller.
Cook till a nice golden brown. This can be cooked in a skillet with coconut oil to make "hush puppy pancake-lets". Also, this recipe without the last 4 dry ingredients and the chopped onions makes a good "regular" pancake mix…just add a bit more liquid so it will pour instead of "glomp" onto the skillet. Also, using coconut milk instead of evaporated milk will give a more coco-nutty flavor.
Recipe submitted by Priscilla, Palm Bay, Florida
Published on October 11, 2008