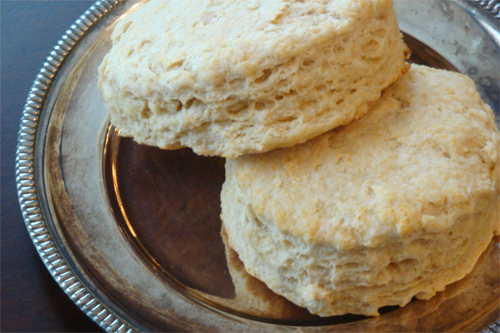 Coconut Kefir Buttermilk Biscuits
Photo by recipe author
A twist on the traditional, these biscuits are tender on the inside, slightly crisp on the outside. With rich flavor from the tangy kefir, nutty whole wheat flour and hint of coconut, these biscuits are so delicious you might just skip the butter (although with a little strawberry rhubarb jam – wow!). Your guests will rave, but never guess the secret ingredients.
Servings: 6
Preparation Time: 10 minutes active, 20 minutes total
1 cup whole wheat pastry flour ("white" wheat)
1 cup unbleached all-purpose flour
1 tablespoon baking powder
1/4 teaspoon baking soda
3/4 teaspoon salt
1/3 cup virgin coconut oil, cold
3/4 cup plain kefir (a bit more if added moisture is needed)
Preheat the oven to 450 degrees F. Sift together first 5 ingredients. Roughly cut in coconut oil with a pastry cutter or two knives until you have pea size lumps. Add kefir and gently stir with a fork, until just combined and dough pulls away from the sides of the bowl (do NOT over mix or biscuits will be tough).
Gently pat or roll dough to 3/4 thick, cut with a sharp biscuit cutter and arrange about 1″ apart on a cookie sheet covered in parchment paper. Only roll once to avoid toughening dough – any scraps may be arranged on the baking sheet to enjoy as snacks (because believe me, you WILL want to snack on them). Instead of rolling, you may also individually gently shape the biscuits with your hands to about the same thickness for a more casual look.
Bake on the middle rack about 10 minutes or until the biscuits are golden brown on the outside and tender on the inside. Enjoy!
Makes approx 6 large or 12 smaller biscuits.
Recipe submitted by Lydia, Salem, VA
Published on June 21, 2010