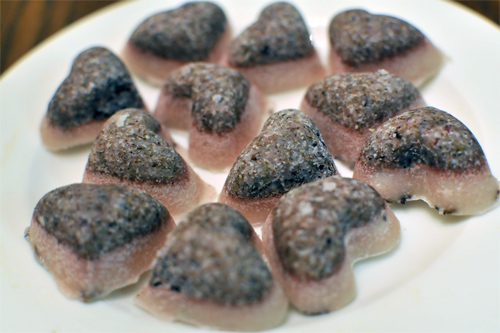 Coconut Lavender-Hibiscus Sweeties Recipe
photo by recipe author
Servings: 12 "sweeties"
Preparation Time: 10-15 minutes
1/4 cup coconut oil (you may not use this all, depending on your consistency)
3-4 tablespoons coconut cream concentrate
1-2 tablespoons dried coconut flakes
1 tablespoon dried lavender
1 tablespoon dried hibiscus flowers
vanilla crème stevia, to taste
coconut stevia, to taste
5 drops lavender essential oil (optional)
Warm your coconut oil and coconut cream concentrate on the stove until melted, and stir in vanilla crème stevia and coconut stevia to taste.
While that is melting, add your shredded coconut, dried lavender, and dried hibiscus flowers to your food processor or blender and pulse till ground up finely. For a more pronounced vanilla flavor, you could add vanilla bean seeds to the mix. Once that is pulsed well, stir it into the coconut oil and coconut butter and stir till well mixed.
Pour your mixture into candy molds, mini cupcake liners, or allow to harden enough to use a melon baller to roll into truffles. For truffles, allow to harden in the fridge for a few minutes until the texture is hard enough to scoop out and roll into balls. If you roll into truffles, you can roll them in coconut flakes for a little extra coconutty flavor.
Refrigerate for an hour to harden (or pop in the freezer for 20 minutes if you can't wait!) and then enjoy!
Recipe submitted by Stacey, TX
Published on March 18, 2013