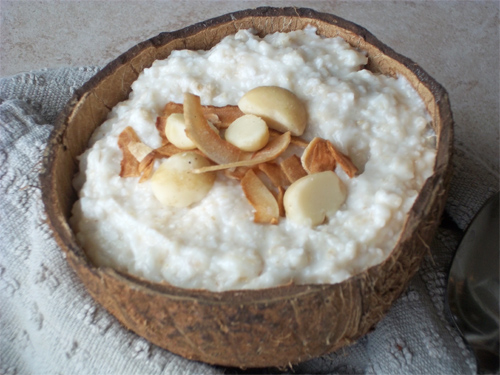 Coconut-Lime Breakfast Oatmeal
photo by recipe author
Servings: 1
Preparation Time: 5 minutes
Combine water, coconut cream concentrate, rolled oats, and the dash of salt. Bring to a boil; simmer and stir for two minutes. Remove from heat, then stir in juice, coconut, and essential oil or zest. Top with macadamia nuts. Drizzle with a little honey if you like, but I don't find it necessary.
This recipe can be doubled (or more).
*If you use macaroon (fine flake) coconut, it will disappear into the oatmeal, leaving only flavor. Using sweetened shredded coconut will both sweeten it and add a little texture. My favorite is the shaved dried coconut; it adds both flavor and crunch.
Recipe submitted by Rhonda, South Jordan, UT
Published on January 30, 2012