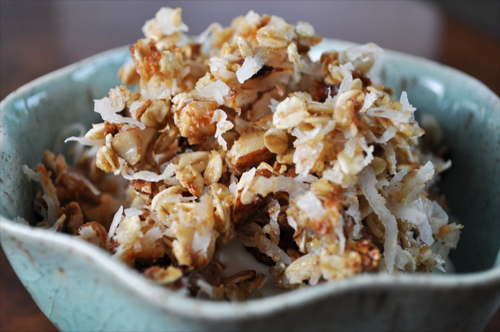 Coconut Macaroon Granola
photo by recipe author
Servings: 4
Preparation Time: 10 minutes
Preheat oven to 375 degrees F.
In a large bowl, combine oats, flax, wheat germ, coconut, salt and almonds. In a separate bowl, combine coconut oil with honey and extracts. Add oil mixture to oat mixture and stir until moistened. Add scraped vanilla beans and coconut cream concentrate, mixing thoroughly.
Lay on a baking sheet and bake for 20 minutes, flipping every 5 minutes, or until golden brown and toasty.
Recipe submitted by Jessica, Pittsburgh, PA
Published on August 18, 2010