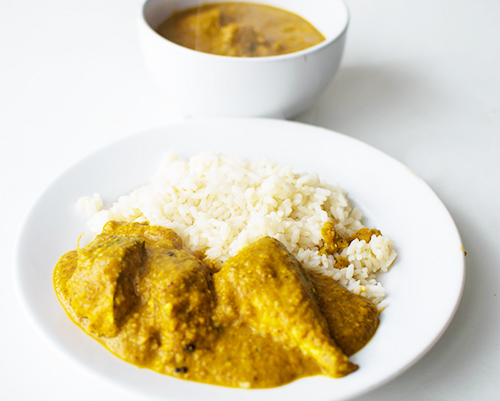 Coconut Mackerel Curry
photo by recipe author
Servings: 6
Preparation Time: 30 minutes
6 large mackerels
salt for rubbing on fish
turmeric for rubbing on fish
2 medium onions
2 tablespoon coconut oil
10-12 dry red chilis
1 teaspoon coriander seeds
1 teaspoon mustard seeds
1/2 teaspoon fenugreek seeds
2 tablespoons rice
2 tablespoons + 1/2 teaspoon urad dal
1 cup shredded coconut
2 teaspoons turmeric powder
marble size ball tamarind
salt to taste
Clean the fish, descale and cut each into 3 pieces. Apply salt and turmeric to the fish pieces and set aside for 30 minutes.
Slice 1 onion and chop the other, keep aside.
On a heated skillet, add 1 tablespoon coconut oil then roast chilis and coriander seeds on medium heat until fragrant, keep aside. On the same skillet, roast mustard seeds, fenugreek seeds, rice and urad dal until fragrant, set aside.
Using the same skillet, add another teaspoon of coconut oil and sauté sliced onion until translucent. Add shredded coconut and toast until coconut changes its color to brown. Add turmeric powder and fry for another minute then set aside.
In a food processor, combine toasted coconut, sautéed onion, roasted coriander seeds, tamarind, and dry red chilis into a very fine paste, using a little water. Next add roasted mustard seeds, fenugreek seeds, rice and urad dal and process for a couple seconds more.
In a saucepan, heat 1 teaspoon coconut oil, and add the contents of the food processor.
Next, add chopped onion and fry till golden. Add ground masala paste and sauté for a minute or two. Add a little water but do not make it runny – the consistency of the curry should not be very thin. Add marinated fish.
Cook on medium high heat until it boils. Stir occasionally taking care not to break the fish.
Once it reaches a boil, reduce heat to low and simmer for 10 minutes. Add salt to taste.
Remove from heat and serve with steaming hot rice.
Pooja from Fort Worth, TX won $50 for this recipe and photo! Submit your coconut recipes and photos here!
Published on May 13, 2016