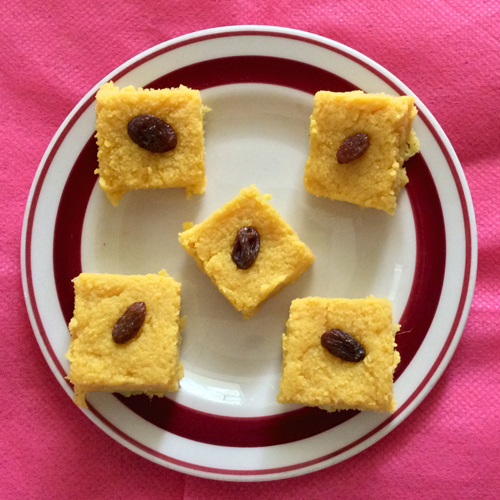 Coconut Mango Fudge
photo by recipe author
Servings: 20
Preparation Time: 1 1/2 hours
In a medium-size heavy bottom sauce pan melt ghee/or coconut oil on low heat. Add shredded coconut and toast it for 30 seconds. Add coconut flour and mix well with the shredded coconut. Add 2 cups of milk. Bring to a simmer over medium heat, stirring continuously to avoid burning. When the milk is fully absorbed by the coconut, the mixture will start to lump together and look dry (approximately 20 minutes). Lower the heat and add the cardamom powder, mango pulp and sugar. On low heat stir well till combined and then turn off heat when everything comes together to form a lump.
Let the mixture cool.
Grease a 7×5 inch pan with coconut oil or ghee. Pat the mixture evenly into the pan. Cut into 20 squares and garnish each with a raisin then refrigerate for an hour.
Sheetal from Foster City, California won $50 for this recipe and photo! Submit yours here.
Published on May 18, 2015