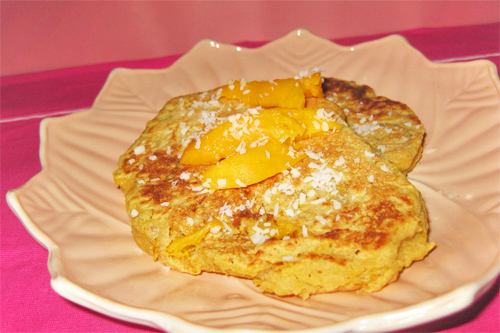 Coconut Mango Pancakes
photo by recipe author
Servings: 4
Preparation Time: 20 minutes
1 1/4 cups barley flour (do not pack flour; fill cup with a spoon)
1/4 teaspoon salt
2 teaspoons baking powder
1 egg
1 tablespoons honey
3/4 cup mangoes
1/4 cup + 2 tablespoons coconut oil
1 cup warm water
Topping ideas: honey, shredded coconut, extra mango slices
If coconut is solid at room temperature, place it in a bowl of warm water until it liquefies.
Melt 2 tablespoons coconut oil in skillet over low heat.
Meanwhile, mix all dry ingredients in a bowl. In a separate bowl, beat egg slightly then mix in remaining ingredients.
Add wet ingredients to dry – MIXING ONLY UNTIL COMBINED. (If you over-mix, the pancakes will be dense).
Cook pancakes until bubbles form on the surface, then flip over. Heat until golden on each side.
Drizzle pancakes with honey. Top with extra mango slices and shredded coconut.
Recipe submitted by Lisa, Ft. Lauderdale, FL
Published on June 13, 2011