I don't like making meringues. It worries me. I'm always afraid I'm going to do something to deflate the beautiful, fluffy, marshmallowy mixture in one way or another. But I love eating them, so I still willingly make them when I can. Meringues are a nice way to get rid of those leftover egg whites.
For a long time I did flop at making meringue, but over time I finally, finally found out what was going wrong and got it to work for me. Meringue making actually isn't as simple and easy as it looks. Once you get it down, it is one of the easiest cookies to make. Let's go over a few things.
First, the weather must NOT be humid. You have to have dry weather to make meringues. No kidding. If the weather is humid, don't even think about making meringues. They'll flop and become soggy. Believe me, I speak from experience. This was the one thing that kept me from making a successful batch of meringues for a long time.
Second, make sure your bowl and beaters are spotlessly clean. I don't care if that means you have to wipe every single wire on your whisk beater; you need to do it! Even just the tiniest amount of water or fat will kill the meringue.
Third, bring the egg whites to room temp, or almost room temp. It'll make the whipping process a whole lot quicker.
Fourth, use a light hand. Never, ever scrape meringue down. You can scrape the powdered sugar off the sides of the bowl, but don't touch the meringue.
Following those guidelines and the recipe below, you'll have light, airy, fluffy, marshmallowy, Coconut Meringues with a delicate crisp exterior and chewy inside. It can't get much better then that.
If you have any questions, feel free to ask! Don't be shy.
Enjoy!
Sarah
Coconut Meringues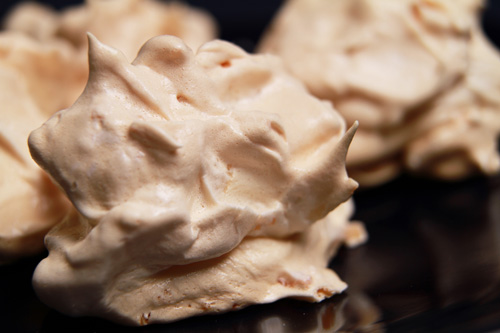 Coconut Meringues
Prepared by Sarah Shilhavy, Photo by Jeremiah Shilhavy
Servings: 24 meringues Preparation Time: 20 minutes
Preheat oven to 250 degrees F. Line two cookie sheets with parchment paper.
In large bowl with mixer at high speed, beat egg whites and cream of tartar until soft peaks form.
Gradually sprinkle in sugar 2 tablespoons at a time at high speed. After all the sugar has been added you may beat in the vanilla extract (or fold in with the coconut). Beat until meringue stands in stiff, glossy peaks.
Using a rubber spatula, very, very gently fold in flaked coconut and vanilla extract (if you didn't add it in the above step). Do not fold until well mixed, this should take only about 2-3 turns of the spatula.
Drop meringue by rounded spoonfuls onto prepared cookie sheets about 1 inch apart.
Bake for 70 minutes or until dry to the touch. Remove to rack to cool.
Published on January 14, 2010