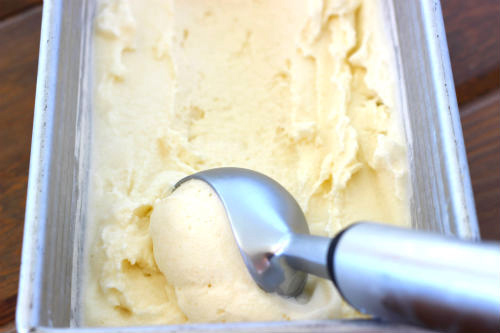 Coconut Milk Lemon Gelato
photo by recipe author
Servings: 4
Preparation Time: 30 minutes
14 oz + 1 cup full fat coconut milk*
4
egg yolks
1/2-3/4 cup granulated sugar
3/4 cup fresh lemon juice (2-3 lemons)
2 heaping tablespoons grated lemon peel
Whisk the egg yolks and set aside.
Combine the milks and sweetener in a heavy saucepan over medium high heat and bring to a simmer. Once the milk is simmering, reduce the heat to low.
Slowly whisk about a ladle full of milk into the egg yolks, whisking the entire time. Slowly add the egg yolk mixture back into the warm pan, whisking the entire time. Add the lemon peel at this time.
Continue cooking the mixture on low and stirring until it thickens up, coats the back of a spoon. Remove from heat and stir in the lemon juice. Strain the mixture to remove any seeds and the lemon peel.
Place in the fridge or freezer to cool. Once cooled, run thru an ice cream maker or freeze it in a loaf pan or use the zip lock method.
Notes:
Zip lock method – simply pour the mixture into a zip lock bag and freeze. When you are ready to serve the gelato, place the frozen mixture into a blender and blend until smooth!
*For the freshest coconut milk make
homemade coconut milk. (See video at this
link.)
Kate from Highlands Ranch, CO just won $50 for this recipe and photo!
Submit yours here.
Published on April 28, 2014