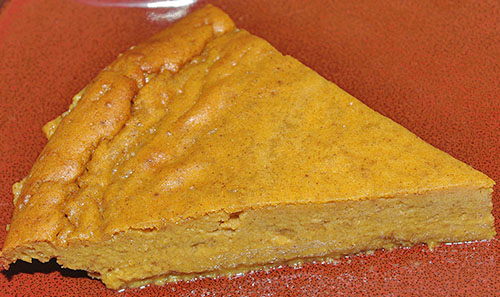 Coconut Milk Sweet Potato Breakfast Custard
photo by recipe author
Servings: 8
Preparation Time: 1 hour 15 minutes
1 1/2 pounds sweet potatoes – baked, cooled and peeled
14 ounces coconut milk*
4 large eggs
1/2 cup raw honey
1 teaspoon vanilla extract
2 teaspoons pumpkin pie spice
Heat oven to 350° F.
Place all the ingredients in a blender and blend until very smooth. Pour the mixture into a greased pie plate and bake for 50 minutes – 1 hour. The center should be set and jiggly.
Cool before serving. Keep in the refrigerator.
Make Your Own Homemade Coconut Milk
*For the freshest coconut milk make homemade coconut milk. (See video at this link.)
Jennifer from Sulphur, LA won $50 for this recipe and photo! Submit your recipes and photos here!
Featured Product
Our organic heirloom potatoes come from small-scale family farms in rural southwestern Wisconsin. This is known as the "driftless" area of Wisconsin, because glaciers drifted around this area during the glacial period. This resulted in a unique geographical area of rolling hills and valleys that the early settlers of Wisconsin recognized as having rich soil for grass and crops.
The four seasons and harsh winters allow for the natural death of organic plant life that returns nutrient rich organic matter to the soil each year.
We are currently offering three types of organic potatoes: Organic Heirloom Fingerling Potatoes, Organic Heirloom Sweet Potatoes, and Organic Heirloom German Butterball Potatoes
Buy organic heirloom sweet potatoes here!
Published on June 7, 2017