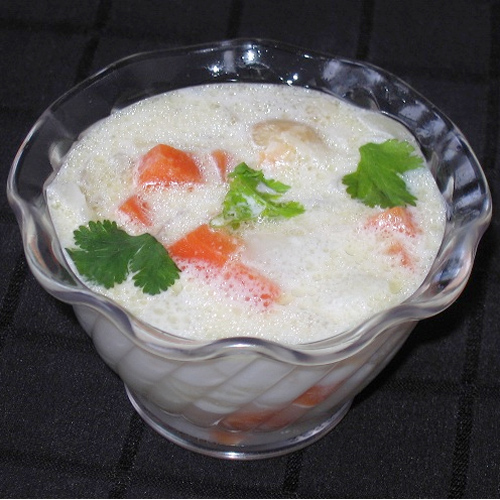 Coconut Milk Vegetable Stew
Photo by recipe author
Preparation Time: 30 minutes
Servings: 2
4 teaspoons coconut oil
1 bay leaf
1 cinnamon stick
2 cardamom pods
3 green chilies – or adjust to your taste (slit vertically)
1/2 cup chopped onion
1 cup mixed cut vegetables
1 cup fresh coconut milk*
1 1/2 cups water
Salt, as needed
1 teaspoon lemon juice
Coriander – for garnishing
1. Heat coconut oil in a pan. Add bay leaf, cinnamon and cardamom. Sauté for 2 minutes.
2. On a medium flame, add chilies and onion. Fry till it turns golden brown.
3. Now add the mixed vegetables and sauté it for few minutes.
4. Take 1/2 cup of coconut milk. To that add the water to dilute it.
5. Pour the diluted coconut milk over the vegetables in the pan.
6. Add salt and cover the pan with lid. (See that the flame is in medium)
7. Keep as such till the vegetables are cooked.
8. Finally, take out from the stove.
9. Add the remaining 1/2 cup coconut milk and lemon juice.
10. Mix well. Garnish with coriander.
11. Serve with rice/any Indian bread variety/rice noodles.
Recipe submitted by Nithu, Somerset, NJ
* For the freshest coconut milk make homemade coconut milk. (See video at this link.)
Published on June 7, 2010