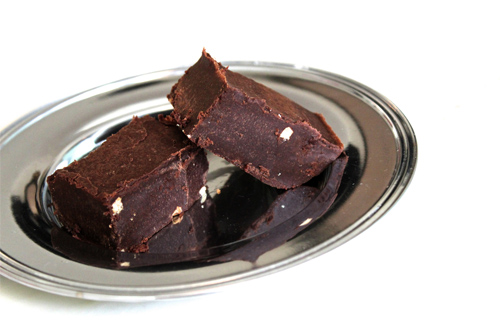 Velvety smooth and deceptively decadent, perfect for an afternoon pick me up or guilt free chocolate fix. The ganache like texture and rich flavor is melt in your mouth delicious, I guarantee no one will think this is healthy if you don't tell them. Very, very addictive in the best kind of way. We always have some of this in the fridge for a quick boost of long lasting energy whenever we need it.
Servings: 20
Preparation Time: 7 minutes
Add all ingredients except peanut butter and beat on medium to high with a hand or stand mixer for 5-7 minutes. Mixture should be smooth and glossy. Add peanut butter and blend until combined.
Pour mixture into a glass baking dish (no need to grease). A larger or smaller dish can be used depending on desired thickness. Refrigerate to set. Cut into squares and enjoy!
Lydia from Salem, VA just won $50 for this recipe and photo! Submit yours here.
Published on September 19, 2014