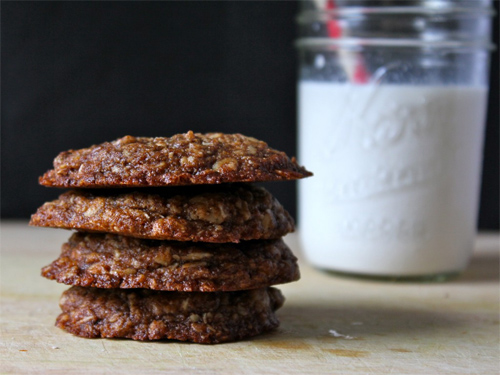 Coconut Oil Espresso Oatmeal Cookies Recipe
photo by recipe author
Servings: 22-25
Preparation Time: 5 minutes
1 1/4 cups certified gluten-free rolled oats
1/2 cup oat flour
1/2 cup almond flour
1/2 teaspoon baking powder
1/2 teaspoon baking soda
1/2 teaspoon fine sea salt
1 teaspoon ground cinnamon
2 teaspoons instant espresso powder
1/2 cup coconut oil, at room temperature
1 cup brown sugar
1 large egg
1 teaspoon pure Mexican vanilla extract
1 cup unsweetened, finely shredded coconut
1/2 cup finely chopped dark chocolate
1/2 cup finely chopped pecans
Preheat the oven to 350 degrees ºF. Line two baking sheets with parchment paper.
In a large mixing bowl, combine the oats, flours, baking powder, baking soda, salt, cinnamon, and espresso powder.
In a separate mixing bowl, or in the bowl of a stand mixer fitted with the paddle attachment, beat the coconut oil and sugar until creamy. Add the egg and beat until just incorporated. Add the vanilla and beat again.
Working in two batches, add the dry ingredients to the wet ingredients until a dough forms. Fold in the coconut, chocolate, and pecans.
Using a cookie dough scooper, scoop the dough by 1 teaspoon into your hand, roll the dough into a small ball, and place on the prepared baking sheets.
Bake for 10-13 minutes, or until the cookies are lightly golden on the edges. Let them cool for 3-5 minutes on the baking sheet then move to wire rack to cool completely
Recipe submitted by Chelsy, Houston, TX
Published on October 21, 2013