I make these in a bread machine set on the "dough" setting. They could easily be kneaded by hand, set to rise, punched down and rolled out, then cut.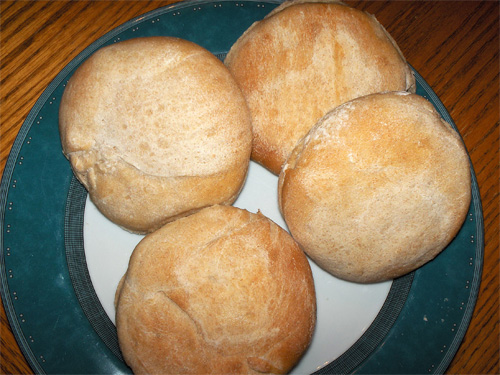 Coconut Oil Sandwich Buns
Photo by recipe author
Servings: 8-10
90 minutes preparation
1. If using bread machine, put ingredients (except for last 1 tablespoon coconut oil) into machine in the order listed. Select "Dough" setting.
2. When finished, turn out onto a floured board and roll out to 1/2″ – 3/4″ thickness. Cut into 3″ circles (I use a floured large mouth canning jar ring).
3. Place on lightly greased (coconut oil) baking sheet. Brush tops with the remaining 1T coconut oil. Cover and let rise about an hour in a warm, draft free place until doubled.
4. Bake at 350 degrees F for 10-15 minutes, until golden brown. Yield, 8-10 buns.
To make by hand: Mix all ingredients together in a large bowl until a dough forms. Turn out unto a lightly floured work surface and knead until smooth and elastic. Form dough into a ball and place into a lightly oiled bowl, turning once to coat. Cover bowl with a damp towel and place in a warm, draft free place and let rise until doubled (30 minutes to 1 hour). Proceed as recipe states from step 2.
Recipe submitted by Debby, New Milton, WV
Published on March 17, 2010