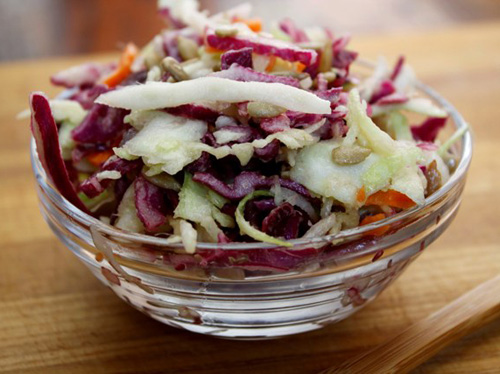 Photo by Recipe Author
1/2 cup red wine vinegar
2 teaspoons honey
1/2 teaspoon salt
1/4 teaspoon freshly ground black pepper
3/8 cup coconut oil, liquefied
3/8 cup virgin olive oil
10 cups cabbage mix/coleslaw (you can shred whatever cabbages and carrots you feel like shredding)
1/8 cup roasted, salted, shelled sunflower seeds
Whisk vinegar, honey, salt and pepper until salt dissolves.
Slowly add oils, whisking away.
Allow to stand 5 minutes, taste and adjust to your liking, whisk again.
If you're serving the whole thing, add the dressing to the cabbage mix and toss then add the sunflower seeds, mix well. Otherwise, just put some of the vinaigrette on your cabbage mix and sprinkle with sunflower seeds.
Recipe submitted by Ann, Omaha, NE
Published on October 2, 2009