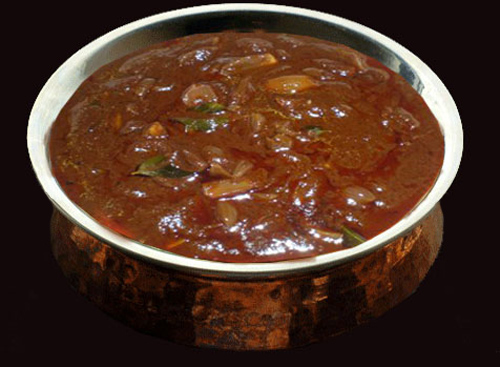 Coconut Onion Gravy
Photo by recipe author
This is yet another delicacy from Kerala, a South Indian State which is called the land of coconuts.
Servings: 4
Preparation Time: 20 minutes
4 – 5 tablespoons coconut oil
2 cups dried coconut (shredded)
7 – 8 red chilies (depending on how spicy your taste buds can afford)
4 teaspoons coriander seeds or powder
1 teaspoon fenugreek seeds
Water (as needed, recipe follows)
1 cup pearl onions/shallots cut into small pieces (you can also use regular red onions, if you don't have baby onions)
2 teaspoons turmeric powder
2 tablespoons tamarind paste
Salt, to taste
1 teaspoon mustard seeds
4 – 5 curry leaves
1. Heat 2 tablespoons of oil in a small pan and sauté coconut until it is brown in color. Transfer this coconut to a mixer/blender jar.
2. Heat red chilies, coriander seeds and fenugreek seeds in the pan without oil. Fry till it emits an aroma. Make sure that the spices are not burned black. Set aside to cool. Once it is cooled, add this to the blender/mixer and grind the coconut and the spices together to a fine paste by adding water.
3. Cut onion into small pieces and fry it using 2 tablespoon of coconut oil until it is light pink/brown in color. Add turmeric powder, tamarind paste and a cup of water and let it boil until the onions are soft (approximately 10 minutes). Add salt as per your taste.
4. Now, pour the ground paste into the above mixture and let it boil for another 5-10 minutes.
5. In another pan, season mustard seeds, one red chili and curry leaves using 1 tablespoon coconut oil. Pour the seasoning to the boiling gravy.
Switch off the stove and serve it with hot rice!!!
Recipe submitted by Aswathy, North Port, FL
Published on July 9, 2010