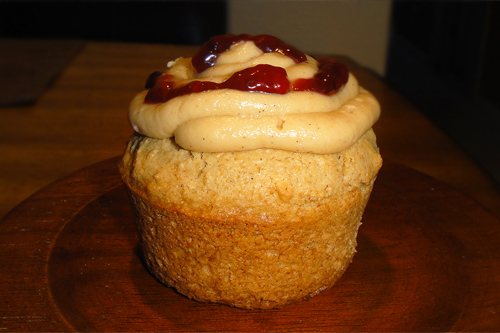 Coconut Peanut Butter and Jelly Cupcakes
photo by recipe author
Servings: 20-24
Preparation Time: 30 minutes
Cupcakes:
Peanut Butter Frosting:
Filling:
1 cup jelly of your choice. DO NOT USE spreadable fruit or a chunky style of jam. The smoother the consistency, the easier it will be to fill.
Cupcake:
Preheat the oven to 350 F. Insert 20-24 liners into a medium cupcake pan(s).
In a large bowl, cream together butter, peanut butter, and brown sugar with an electric mixer on medium speed until fluffy, about 3-5 minutes. Add the eggs one at a time. Beat well. Mix in the vanilla. Add the baking powder and salt and mix well.
If using all purpose flour, mix it into the peanut butter mixture, one cup at a time, alternating with the milk. If using either whole wheat or coconut flour, add it in 1/4 cup at a time.
Fill the cupcake liners 2/3 full. Bake for 15-20 minutes or until toothpick inserted in the center comes out clean. Cool cupcakes in the pan for 5 minutes then transfer to wire racks carefully. Cool completely.
Frosting:
Combine the peanut butter, butter, and vanilla in a medium bowl. Using an electric mixer, beat until light and fluffy, about 2 minutes. Beat in remaining ingredients. You can add more additional amounts of any of the ingredients to alter the taste and consistency to meet your personal preference.
Assembly Directions:
The easiest method to fill cupcakes is a piping bag and round tip. Fill the piping bag with 1/2 cup of jelly at a time. Insert the pointed tip into the top of the cupcake and slowly squeeze out the jelly. Each cupcake can hold about 3 teaspoons of jelly before it "explodes." Once you have dispensed the jelly, slowly pull out the tip. It is ok if the jelly oozes out onto the top of the cupcake. The frosting will cover it.
Top cupcakes with frosting using a decorating tip or simply spread on with a spatula.
*If using coconut flour or whole wheat flour, you may not need to use the entire amount listed. Stop adding flour when the batter begins to get "stiff." You can always add a little more milk to make the consistency more cupcake-like.
Recipe submitted by Jennifer, Orangevale, CA
Published on December 27, 2010