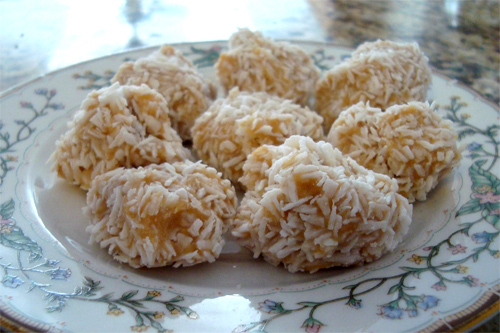 Coconut Peanut Butter Balls Recipe
photo by recipe author
Servings: 50+
Preparation Time: 1 hour
Line cookie sheet with wax paper. Soften coconut oil. When soft, add the peanut butter, ricotta cheese, vanilla, honey and salt and mix well with a mixer. Place in the refrigerator for about 10 minutes.
Pour 1 cup of shredded coconut (might need more) into a small bowl. Remove mixture from refrigerator. Scoop a small spoonful of mixture and drop into shredded coconut. Using fingers or a clean spoon roll dough around in coconut to cover. Set on cookie sheet. Continue until all are formed/covered. The amount you wind up with will be determined by the size of your spoonfuls.
Place the cookie sheet in the freezer for approximately 30 minutes to set. Transfer to container and store in the freezer or the refrigerator. If you keep them in the freezer, they are like little bites of coconut/peanut butter ice cream which is how I like to eat them. This is my favorite snack and I always have them in my freezer!
Recipe submitted by Vicki, Pleasantville, TN
Published on December 5, 2012