When the weather outside is cold, make hot cocoa. Coconut Peanut Butter Cup Hot Cocoa, that is.
Never heard of it? Well good, 'cause as far as I know I'm the first one to come up with it (the coconut part, not the peanut butter part). There are lots of peanut butter hot chocolate/hot cocoa recipes out there, but Coconut Peanut Butter? Nope. Not until now!
I'm sure you've all at some point or another had a cup of hot cocoa or chocolate, but have you ever tried it with peanut butter? Or Coconut Peanut Butter? If you haven't you should. It's a fantastic combination. Think of it as a peanut butter cup. How could you not like peanut butter cups?
So I have here a recipe for Coconut Peanut Butter Cup Hot Cocoa. I love the addition of the Coconut Peanut Butter; it adds richness and creaminess to the drink without overpowering the chocolate flavor.
This is hot cocoa by the way, not hot chocolate. What's the difference? Simple. Hot cocoa is made with cocoa powder and hot chocolate is made with chocolate. See? I told you it was simple. So don't get the two confused.
No hot cocoa is complete without whipped cream, so go ahead, dollop it on. Use whipped cream, not whipped topping. The difference? Whipped topping isn't the real stuff made from real heavy cream; it's fake, usually made from hydrogenated vegetable oils. Whipped cream is just was it says it is: whipped heavy cream sweetened with a bit of sugar and flavored with vanilla extract. Delish.
So if you love hot cocoa but are a little bored of just the same thing, do give this recipe a try. I love adding a few tablespoons of coconut oil to the recipe to drink before a workout for an energy boost. It's rich (but not too rich), creamy, peanutbuttery, coconutty, chocolaty, and tastes a lot like a peanut butter cup with a twist. Not only that, but it's also WAY better then the packaged stuff. One sip of this and you'll never buy hot cocoa mix again. If you don't already have a jar of Coconut Peanut Butter in your possession you'll want to get some just to make this. What are you waiting for?
Enjoy the recipe below!
Sarah
Coconut Peanut Butter Cup Hot Cocoa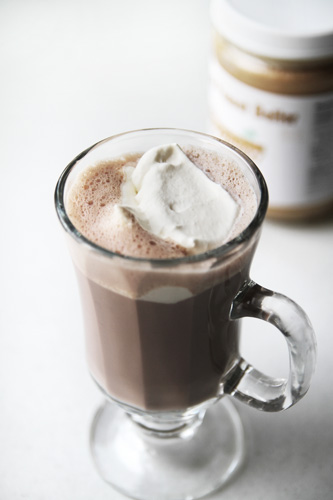 Coconut Peanut Butter Cup Hot Cocoa
Prepared by Sarah Shilhavy, Photo by Jeremiah Shilhavy
4 – 5 servings
Preparation Time: 3 minutes
Combine dry ingredients in a medium saucepan and whisk in water over medium heat. Bring to a boil, whisking constantly. Boil for 2 minutes. Whisk in Coconut Peanut Butter.
Add milk and whisk and heat until hot, but do not boil. Remove from heat and whisk in vanilla extract. Serve topping with whipped cream.
*If using honey, use less then you would for sugar. Brown sugar may be used.
Recipe courtesy Sarah Shilhavy
Published on January 5, 2010