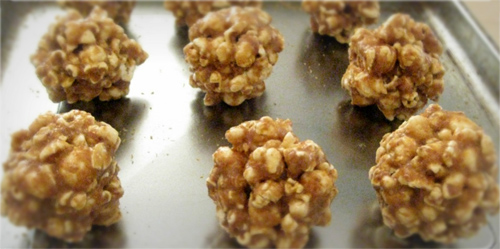 Coconut Peanut Butter Popcorn Balls
photo by recipe author
Servings: 9 popcorn balls
Preparation Time: 10 minutes
In a small saucepan, gently heat honey, coconut peanut butter, coconut oil and sea salt. Bring sauce to a simmer.
Take off heat and let cool for 5 minutes.
In a large bowl mix popped popcorn and shredded coconut together. Carefully pour warm sauce over popcorn. Mix well.
Oil your hands with coconut oil and form popcorn mixture into balls. Place popcorn balls on a parchment lined cookie sheet and allow to cool before serving.
Recipe submitted by Tiffany, Junction City, OR
Published on November 14, 2011