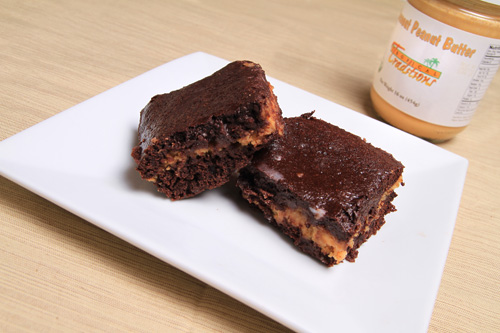 Coconut Peanut Butter Whole Wheat Brownies
Prepared by Sarah Shilhavy, Photo by Jeremiah Shilhavy
Most of the time I make this recipe with peanut butter but I love it best when I use my homemade cashew butter – which, of course, I make with a tiny dab of coconut oil.
When I make these chewy, they stay nice and moist without needing a glaze or frosting but if you want to glaze the top you can make another 1/2 recipe of the nut butter/milk recipe to go on top. For those with a sweet tooth, a little sugar can be added but I don't ever do that.
Servings: 16
Preparation Time: 15 minutes
1/2 cup coconut oil
1 – 1 1/4 cups cocoa powder (the more cocoa powder you use, the darker they will be. I like a darker chocolate so I use the higher amount)
3/4 cup whole organic sugar – if you like them sweeter, you can use up to 1 3/4 cups but I prefer a more bittersweet chocolate
3 eggs
about 1/4 cup yogurt or sour cream (1 additional egg)
1 teaspoon vanilla extract
1 cup whole wheat flour
1/2 teaspoon salt
1/4 teaspoon baking powder
1 cup chopped nuts (optional)
Filling:
Preheat oven to 325.
Mix coconut oil with cocoa powder. Add sugar, 3 eggs, yogurt/sour cream (if not using yogurt or sour cream, add 1 egg) and vanilla until well mixed.
Mix flour, salt, and baking powder together, add to above mix and stir until well blended.
Filling: Add enough milk to your nut butter to make a consistency similar to that of the brownie mix.
In well greased 9×9 or 8×8 inch square pan, pour 1/2 of brownie mixture in bottom of pan. Spread nut butter mix then spread second half of brownie mix over nut butter.
Bake about 25-35 minutes.
I like mine to be soft and chewy so I take them out before the toothpick comes out clean. The brownies will be cakey if baked until a toothpick inserted in the center comes out clean.
Best after completely cooled and allowed to set for at least an hour or so but it's hard to wait that long! You can refrigerate and/or freeze the brownies if desired.
Recipe submitted by Jenny, Enid, OK
Published on February 24, 2010