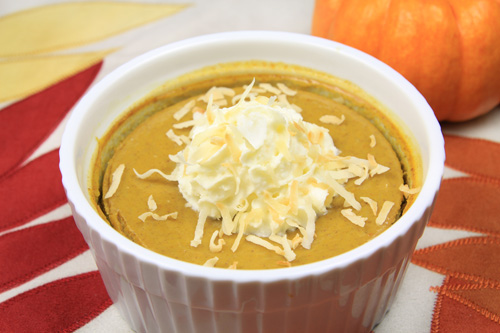 Coconut Pumpkin Custard
Prepared by Sarah Shilhavy, Photo by Jeremiah Shilhavy
Servings: 5
Preparation Time: 8 minutes
Preheat oven to 350 degrees F. Lightly grease 5 8 oz custard cups/ramekins with coconut oil.
Whip the eggs with a whisk or a blender until smooth. Add remaining ingredients and whisk/blend until smooth and well mixed.
Divide batter between the 5 prepared ramekins. Set the cups into a large baking pan. Fill with 1/2 inch of water.
Bake for 40 minutes (or until knife inserted in middle comes out clean).
Cover each with foil and refrigerate until completely cooled. Top with whipped cream and toasted coconut to serve.
*Use 1 teaspoon of coconut cream concentrate for every 6-8 oz of water for coconut cream milk. Mix together and use as directed or make homemade coconut milk.
Recipe submitted by Carole, Lakewood, CO
Published on October 28, 2009